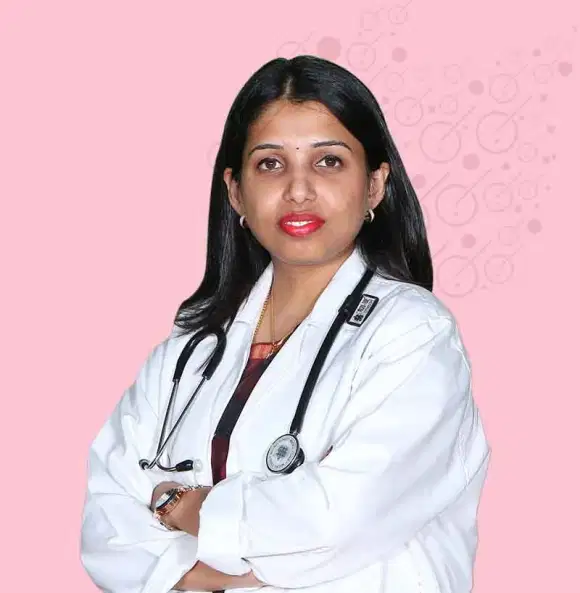 Dr Chaithra S.K
MBBS, MS – OBG, FRM
Assistant Medical Director, GarbhaGudi
Medical Registration Number (KMC) :
83930
Languages Known :
Kannada, English, Hindi
*Appointments are subject to doctor availability. Please, make sure you have given your registered number if you have already visited GarbhaGudi.
Dr Chaithra S.K is a well known Fertility Specialist with more than 11 years of experience in the field. She completed her MBBS, MS (OBG) from RGUHS in 2013 and a fellowship in Reproductive Medicine and Endoscopy the same year. She practices Obstetrics, Gynaecology, Infertility, and Endoscopy in Bangalore with high-level skills and knowledge in IVF. She has an almost commitment, care, and empathy towards patients. She has amazing success rates in IUI and IVF with great skills and knowledge in Obstetrics and Gynaecology.
Dr Chaithra S.K. is a well known, highly skilled and thorough professional in the field of Reproductive Medicine and Fertility Endoscopy. She is also a qualified Obstetrician and Gynecologist with a special interest in infertility which is passionate about. She has a total of 11 years of experience with expertise in IVF, ICSI, IUI and fertility-enhancing endoscopic procedures. She is known among her patients and peers for her skills, patience, ethics, knowledge, attention to detail, patient safety, and high success rates. She understands the individual care and attention patients require and is dedicated to the same.
Her immense passion in the field of ART leads to the birth of Vathsalya fertility in 2019 of which she is the Founder and Medical Director. Dr. Chaithra is also Assistant Medical Director and Senior Fertility Consultant of Garbhagudi IVF centre, Bangalore. She is a teaching faculty of Garbhagnan Institute of Reproductive Medicine, training gynaecologists in Reproductive Medicine.
Dr Chaithra's areas of expertise include IUI, IVF, ICSI, fertility-enhancing laparoscopy, hysteroscopy, regenerative medicine, genetics, ERA, blastocyst transfer, PGS, recurrent pregnancy loss. She follows the patient's individualized treatment approach to produce one of the best treatment outcomes. She has around 25% IUI success rates and 60 -65% IVF success rates which are phenomenal in the field of Reproductive Medicine.
Share this page